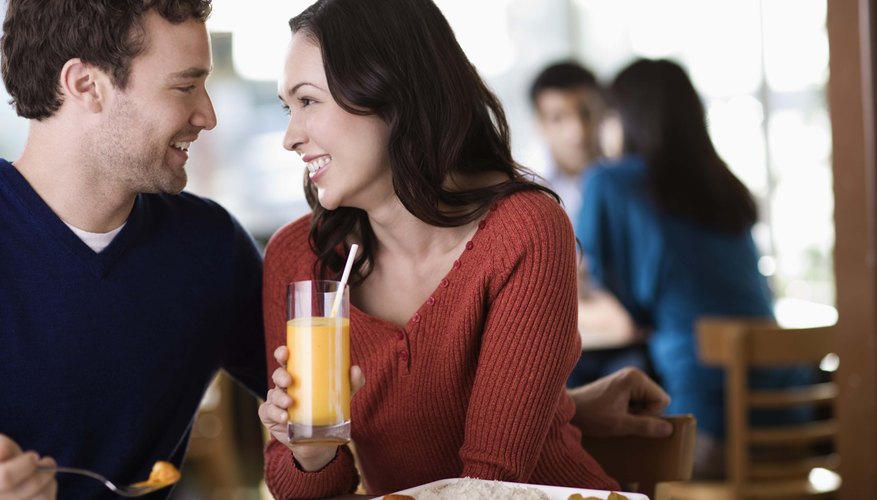 Step 1
Listen to your heart, or better yet, your gut. If you feel sparks and see stars, the feeling could be mutual. Allow your heart to be free without worrying about what every little detail means. Forget past hang-ups and allow yourself to be open to the possibility that he may be someone cool to hang out with.
Step 2
Avoid distractions when you're with him. Show him that you're into him so he can have a vested interest in getting to know you on a deeper level. Don't allow your casual coffee date with him to be interrupted by your friend, who is dropping by to show you her new handbag. Try to section yourself off so it's just you two. He'll have a better chance of connecting when he is focused solely on you.
Step 3
Observe how he listens. Talk about something interesting, deep, or even funny, and see if he's rummaging through his pockets or texting his buddy; or if he's giving you intense eye contact and hanging onto your every word. When he feels something for you, he'll show it in subtle ways, like giving you the stage and listening intently.
Step 4
Watch his facial expressions. Is his smile is as wide as a football field? Notice how every word you say is accompanied by warm smile and a twinkle in his eye. If he's allowing his emotions to be shown, it's a sure sign that he's starting to feel connected and comfortable.
Step 5
Notice his actions. Give him some room to let his guard down a little without making comments or poking fun at him. See if he's okay exposing some of his true self. Punch him playfully or ask if you can jump on his back and see if he's a goofball just like you. His comfort and sense of self is a strong indicator that he's digging you.
View Singles Near You