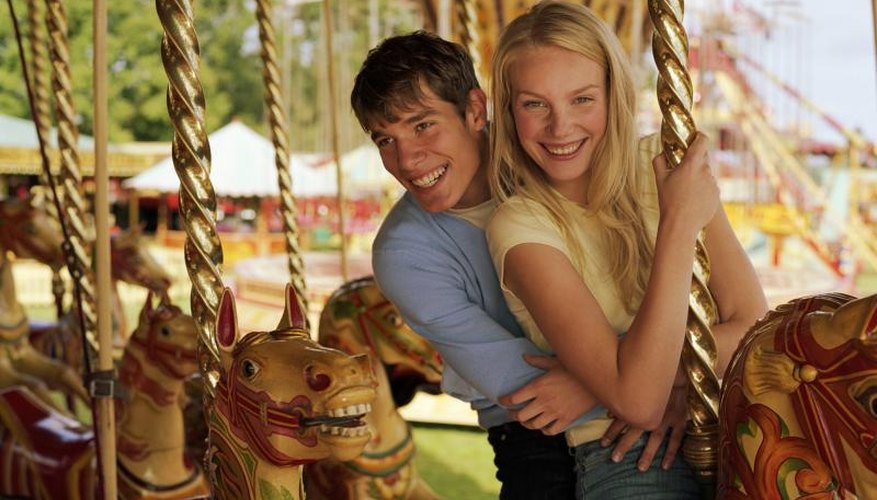 Pick the Perfect Moment
Verbally declaring your love carries even more impact when done at the right time. Sloppily saying "I love you" after a night of drinking, for example, can have the woman doubting the veracity of your sentiments. You don't have to plan something elaborate; instead, look for a quiet moment in which you're together and away from other people. You both want to remember the moment, and having distractions can take away from the important message you're about to share.
Think About How She Might Feel
It's important to tell your special someone that you love her soon after you notice the feeling yourself. Before doing so, however, take some time to think about how she feels about you. Ask yourself is she's shown an indication that she feels the same way. Her feelings are a likely indicator of how she'll respond when you speak from the heart. Saying "I love you" puts the proverbial ball in her court -- if she feels the same way, she can say it back to you, but if she doesn't, the special moment quickly becomes awkward.
Keep It Simple
You don't have to go to great lengths to rehearse your message of love -- rather, keep the expression of your feelings simple. By doing so, you're allowing the woman to focus on your words rather than the props you might use to share them. It's perfectly acceptable to perform a subtle gesture such as taking the woman's hand, placing your hand on her shoulder and then looking into her eyes. When you know she's listening, keep it simple with those three impactful words: "I love you."
Speak From the Heart
If you want to add more to those three important words, reflect on why you love the person and share those sentiments. For example, you could explain how you truly feel alive when you're together. The expression doesn't have to be long-winded; a brief statement followed by "I love you" is more than enough to show the woman how you feel. If you're having trouble finding the right words, think of phrases such as "You're my soul mate," "My life is great with you in it" or "You take my breath away."
View Singles Near You