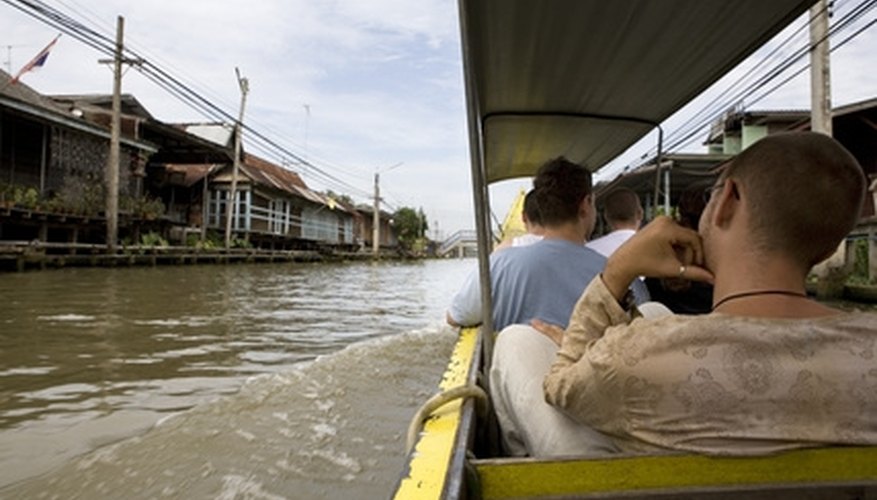 Thai dating culture is important because it demonstrates the importance of brides' reputations. They guard their reputations by being cautious about entering into physical relationships with their dating partners. Their dowry, the money the groom traditionally gives their family, depends on whether they have good reputations.
Physical Intimacy
According to Date Culture.com, Thai women are typically virgins, shy and monogamous. They are significantly concerned with the protection of their reputations, which means that they might not be interested in having sexual experiences during dating. The first phase of dating is important because they restrain themselves from having physical contact beyond sitting close to each other. Although they might touch their date's hands, they typically would refrain from touching legs and personal parts. They consider the head a sacred part of the body, which means that men cannot touch women's heads without their approval. People do not typically sleep together unless their relationship is nearing marriage.
Social Expectations
Thai families typically expect that a man dating a woman should support that woman and her entire family. He must be financially stable because he has an important responsibility to them. A significant portion of Thai people live in extreme poverty, which means that they believe their daughter's marriage should bring money to them. If a women likes a man she is dating, she brings him home to meet the family. The family sizes the man up and discussing the dowry with him.
Dowry
The dowry is an ancient tradition termed sinsod. The concept of sinsod ensures that a woman does not marry below her class. It means that the potential husband offers to pay the bride's family a set sum of money for her hand in marriage. The sum of money depends on the earning potential of the man and the reputation of the bride. Dowries have become less prominent in Thai culture in 2010, according to Th4u.com. Some families give the dowry to the married couple as a wedding gift. Others do not expect a dowry at all. Some still require dowries and need them to survive.
Dating Rituals
The Thai dating culture is unique and different from other Asian cultures. It does not expect couples to go into arranged marriages. Couples typically have their say in who their marriage partner is. Dating in Thai culture is for the women to decide whether the men are quality partners. Dates serve as tests for the women to consider the men's character.
Spirituality
The predominant faith in Thailand is Buddhism. Although Buddhist monks do not hold weddings, spiritually is important to couples who wed. One spiritual Thai tradition is the Merit Gift. It is a donation to the local Buddhist temple for the monks to hold a ceremony blessing the wedding. Some might give gifts in the bride's name to the Buddhist temple to show respect for her spiritual beliefs.
View Singles Near You
References
Cite this Article
Choose Citation Style
Pickett, Theresa. "Thailand's Dating Culture." Dating Tips - Match.com, https://datingtips.match.com/thailands-dating-culture-6639733.html. 25 August 2016.
Pickett, Theresa. (2016, August 25). Thailand's Dating Culture. Dating Tips - Match.com. Retrieved from https://datingtips.match.com/thailands-dating-culture-6639733.html
Pickett, Theresa. "Thailand's Dating Culture" last modified August 25, 2016. https://datingtips.match.com/thailands-dating-culture-6639733.html
Note: Depending on which text editor you're pasting into, you might have to add the italics to the site name.