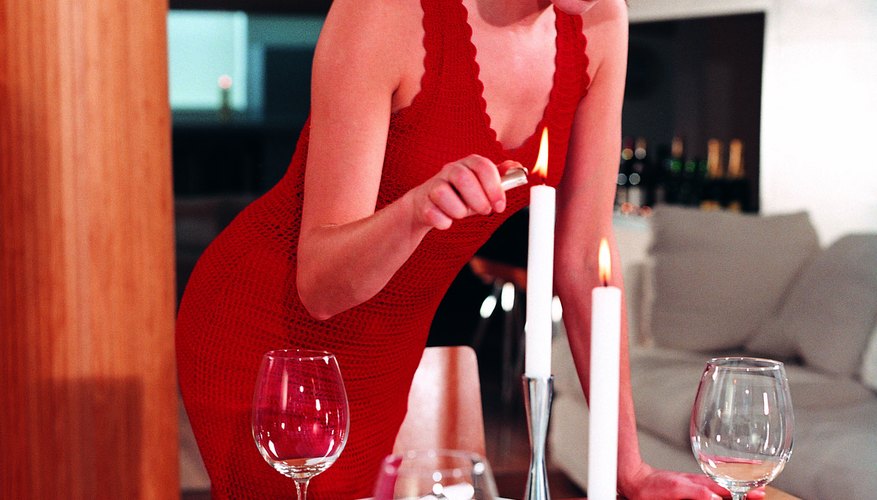 Scheduling
Choose an ideal time for your romantic dinner. Make arrangements for the kids so you and your partner can enjoy time alone. Arrange a sleepover at a friend's house, or hire a babysitter to take the kids to a movie or to help put younger kids to bed early. Choose an evening when you know you and your partner will feel relaxed, without an early wake-up the next day.
Menu
Take a romantic trip down memory lane by recalling favorite meals from the earlier days of your relationship. If your first date was at an Italian restaurant, cook up a gourmet lasagna and buttery garlic bread. If you had a picnic at the park when he proposed, recreate the outdoor meal. You don't have to cook a fancy or exotic dish. The most romantic meal is one you'll both genuinely enjoy, so comfort foods are fine. For a low-stress evening, order take-out from a favorite restaurant or hire a personal chef to come to your house.
Decorations
Create an intimate, romantic environment. Play a song with special meaning to the two of you or your partner's favorite style of music, such as jazz or classic rock. Instead of roses and candlelight, try a clean, sleek table setting. Buy a small gift -- such as a watch or wallet -- and set it beside his plate. Wear an outfit that makes you feel confident or that your partner loves to see you in; accent it with jewelry he gave you on a past birthday or anniversary.
Extras
You may feel pressure to enjoy a perfect evening together, but don't start the dinner stressed. Let the evening unfold naturally. Keep conversation friendly instead of discussing serious issues. Follow up your dinner with a light, tasty dessert, such as fresh fruit with whipped cream. Serve a dessert wine or coffee so you'll have extra time to unwind after dinner. Leave the dishes for the next day instead of rushing away to clean; instead, browse through your wedding album or read old love letters aloud.
View Singles Near You