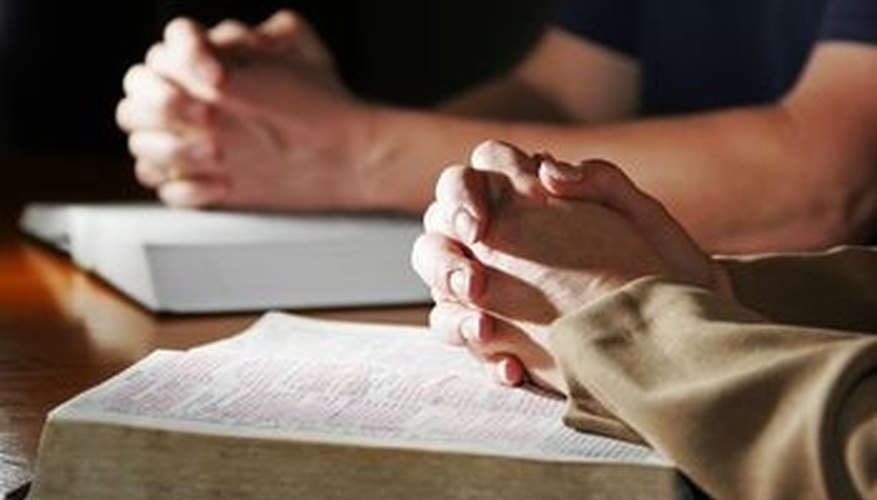 Be Open to His Religion
Christianity includes denominations like Baptist, Catholic and Lutheran, to name a few. You may belong to a different denomination than the Christian man you're dating. If so, you might encounter differences in how you worship.
For instance, Catholics are required by church doctrine to be married in a Catholic church by a priest; there are rare instances where dispensations may be allowed, but this is not the norm. Catholics also believe that the Holy Eucharist is actually the Body of Christ, not a view shared with other denominations. If your beliefs differ from the Christian man you date, it's best to discuss these differences openly. You'll need to have an open mind toward his belief system, just as you would hope he'd be open-minded to yours.
Show That You're a Christian
It's easy for someone to say that she's a Christian, but showing that you're a Christian will be much more impressive to a man who's religious. This includes doing Christian acts like helping the less fortunate, not using swear words, not having premarital intercourse and attending church on a regular basis.
You should also present yourself in a modest manner. This includes wearing clothing that gives a good first impression and not wearing low-cut, very tight or revealing attire.
Pray and Worship Together
Praying and studying the bible together is a wonderful bonding experience that will bring you and your Christian man closer. You can either pray and study at home, or the two of you can attend bible study.
If the two of you attend different churches, you can invite him to your church as well as attend services at his church. He'll be flattered that you want to join him in worship.
Don't Push Him into Intimacy
One of the beliefs of Christianity is not to engage in fornication or adultery. If a man wants to wait until marriage to be intimate, respect his wishes. This may seem like one of the most difficult aspects of being a Christian, but there are other ways to show affection without having to sleep together. He will respect you for respecting your body and his when you don't push for more intimacy than he's comfortable with.
If you're struggling with this issue, consider going on dates with another Christian couple and don't go to his home or invite him to yours alone.
References
View Singles Near You