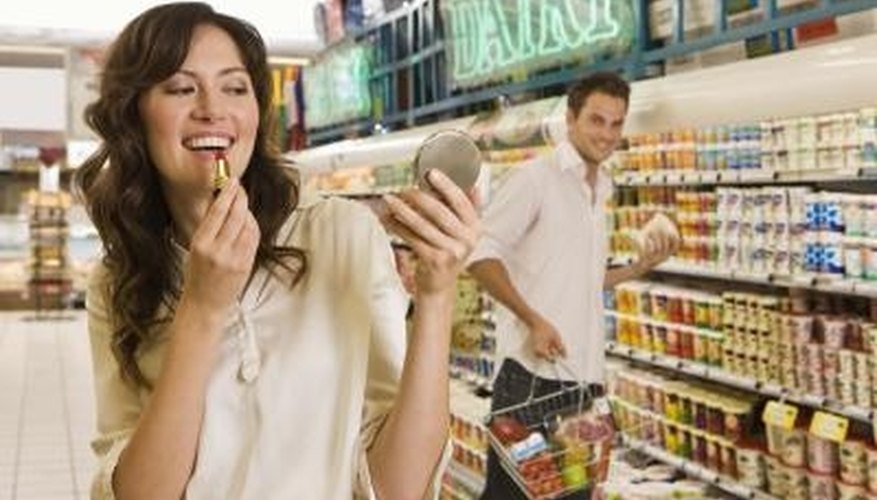 Body Language
Simple body language is one of the most simple, yet also one of the most seductive ways in which to flirt with a man. Flash the object of your affection your biggest, widest and most confident smile. Keep your gaze focused on him and engage in some lingering and extended eye contact. Quickly and softly place your hand on his shoulder, or even "accidentally" touch him as you pass him by. When he is talking to you, be sure to show that you are interested in and engaged with what he is saying by leaning forward into him. Other ideas include arching your eyebrows, dilating your pupils, winking and playing around with your hair.
Physical Appearance
Paying close and meticulous attention to your physical appearance is one subtle yet effective way in which to show that you are interested in a man. This doesn't only involve showing skin or wearing flirtatious, feminine and flowery short dresses, but also entails playing up your best physical assets, whether it is your long, flowing hair (wear your hair down to enhance it), your bright green eyes (make them pop with deep green, brown or apricot eyeshadow) or your slender and shapely legs (wear a mini skirt or short shorts). Whatever it is that you do, make sure that you not only look your very nicest, but that you feel your best, as well.
Befriend Him
One surefire way in which to flirt with a man is by showing interest in his life. Try to become his friend. Ask him about his childhood, his family, his friends, his occupation, his favorite television shows and movies, and his favorite hobbies. Show him that you find his life fascinating and that you are intrigued by him.
Laughing
Laughing is one of the most obvious signs of flirtation. Men generally like to feel appreciated. Men also really like it when attractive women find them funny. One obvious way to flirt with a man is by laughing (sometimes too hard) at the things he says, whether he is telling jokes or relaying a humorous anecdote about something that happened at one of his last family dinners.
View Singles Near You