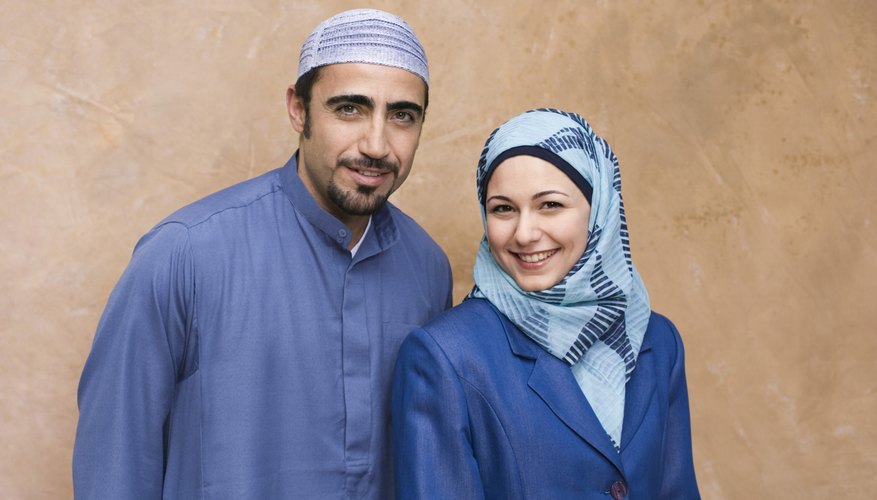 Images of Iran, the historic center of Persian culture, evoke a fascinating blend of tradition and independence, the civilizing influence of the past and the sophistication of the modern era. If you are a newcomer to the Persian dating scene, you can feel more at home in this culture by learning some basic rules of Persian social behavior.
Language
Learn at least a few words of Farsi. Whoever you're dating no doubt speaks excellent English, but if you're going to venture out of your comfort zone–to pay a visit to Iran or to your partner's parents or grandparents in their home–you will want to know a few traditional phrases, such as "Salam aleykom" ("Greetings"), "Motashakkertam" ("Thank you") and "Khahesh mikonam" ("You're welcome"). It's amazing how much goodwill you can earn simply by making this small effort.
Men and Women
Show respect for gender customs. In traditional Persian society, men and women do not socialize together or touch each other in greeting, and women are never alone in a room with a man who is not her husband. Gestures of affection that are common among Westerners, such as hand-holding or sitting together on a sofa, may not be appropriate. Talk with your partner ahead of time about the boundaries of social interaction.
When Worlds Collide
Be aware of common cultural misunderstandings.  If you are a Western man trying to get acquainted with a Persian woman, keep in mind that Westerners (and Americans in particular) are often perceived as insular, arrogant and overly aggressive in demeanor. Show sensitivity by allowing your date to set the pace of conversation, and politely asking questions about aspects of her culture with which you are unfamiliar. Western women seeking to date Persian men should be aware that despite the recent trend toward liberalization, egalitarian norms are still the exception rather than the rule. (Self-centered Persian men are sometimes ridiculed as "khastegars," princely paramours who reflexively demand submission from their wives or girlfriends.) The point isn't to reinforce stereotypes, but to counteract them with a healthy awareness of your own cultural values and biases.
Etiquette
Prepare yourself for unfamiliar etiquette. In most Western countries, etiquette in the home is direct and unambiguous. This is not the case in traditional Persian homes, in which host and guest often engage in an elaborate dance of insistence and refusal known as tarof.  The purpose of tarof is to allow the host to demonstrate excessive generosity while the guest counters with excessive humility.  Because this can appear baffling to outsiders, it is best to stick with a simple rule: If you are offered a gift, refuse it at least once.
Keep an Open Mind
Don't be thrown off by the unusual. If you visit your girlfriend's grandparents in Kerman province in Iran, don't be surprised if they light a sweet-smelling herb in a metal dish. It's known as esfand, and it's considered good luck.
The Old and the New
Of course, not everything in Persian culture is formal and traditional. Going out for the evening can be as fun and free-flowing as in any Western culture. The simple truth is that like everyone else, Persians are adapting to modernity at their own pace and in their own way. Just being aware of that fact should get you off to a good start.
View Singles Near You
Cite this Article
Choose Citation Style
Phillips, Colby. "Tips About Interracial Persian Dating." Dating Tips - Match.com, https://datingtips.match.com/tips-interracial-persian-dating-13197208.html. Accessed 05 June 2020.
Phillips, Colby. (n.d.). Tips About Interracial Persian Dating. Dating Tips - Match.com. Retrieved from https://datingtips.match.com/tips-interracial-persian-dating-13197208.html
Phillips, Colby. "Tips About Interracial Persian Dating" accessed June 05, 2020. https://datingtips.match.com/tips-interracial-persian-dating-13197208.html
Note: Depending on which text editor you're pasting into, you might have to add the italics to the site name.