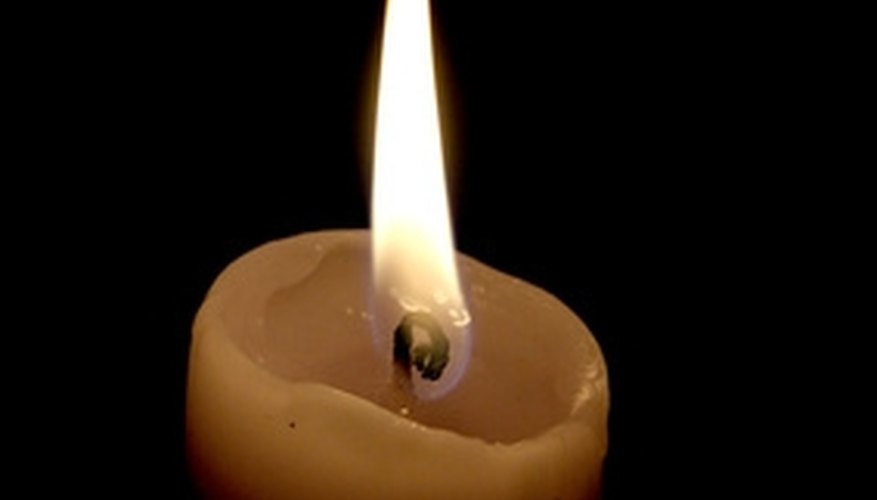 Entice a special someone into the bedroom (or keep the person there) with the right touches in the room. Being romantic requires making the time spent in the bedroom a pleasurable sensory experience. By focusing on elements of sight, touch and smell, you can transform your master bedroom into a sensual, romantic space.
Warm Colors
Light blue walls might elicit feelings of tranquility and calmness, but such cool colors don't translate to romance as well as warm, fire colors like dark red. Leatrice Eiseman, author of the book "Colors for Your Every Mood," states red is a strong symbol for sex, temptation and seduction, fitting with the theme of a romantic bedroom. She states Cleopatra covered the floor with red roses when making dinner for her lover, Marc Antony.
Paint your walls in warm earth tones like maroon or chocolate. If you wish to stick with a neutral color like white or tan, incorporate warm colors with the choice of curtains, pillows, accessories and linens. Add accent colors in plum, orange, gold and yellow.
Lighting
Think about the ambiance of a romantic restaurant: Overhead lights are dim and diners conduct conversation over the flicker of candlelight. Your bedroom needs to be lit much the same way to replicate this romantic setting. Ideally, install overhead lights with a dimmer or a switch that allows multiple settings of brightness. If this installation is cost-prohibitive, use alternative lighting in the form of dark-colored paper lanterns, Christmas lights strung throughout the room or a table lamp with a dimmer.
Candles are also mandatory for a romantic bedroom. Dedicate one nightstand table for pillar candles and tea candles of various sizes. Keep a lighter in the drawer for quick access. Choose candles with heavy scents like cinnamon, spice and musk as opposed to a bright citrus fragrance.
Canopy Bed
A romantic bedroom should have the feeling of intimacy and seclusion. This ambiance is achieved with the use of a canopy bed. On the tall four-post bed, hang gauzy, shimmery curtains that can be drawn around you and your lover. A cheaper alternative is hanging mosquito netting around the bed. HGTV.com highlights one bedroom that adds a canopy to the ceiling and uses a candle-based headboard.
Bedding
The bed is both the centerpiece of the room and, generally, the focal point of an intimate experience. As such, it should be visually inviting and also comfortable. Invest in thick, plush bedding and sheets with a high thread count. Choose bedding that is soft and luxurious to the touch, which includes fabric like silk and velvet. Add a foam mattress pad to the bed to increase the comfort.
Wall Art
Pictures of cartoon characters seldom convince anyone to linger in the bedroom. Some wall posters, however, can be romantic and tasteful. Choose a Georgia O'Keeffe painting of flowers that are well-known for their erotic symbolism. Or, select pictures of classic sex icons like Marilyn Monroe or pinup girls of the 1950s.
View Singles Near You