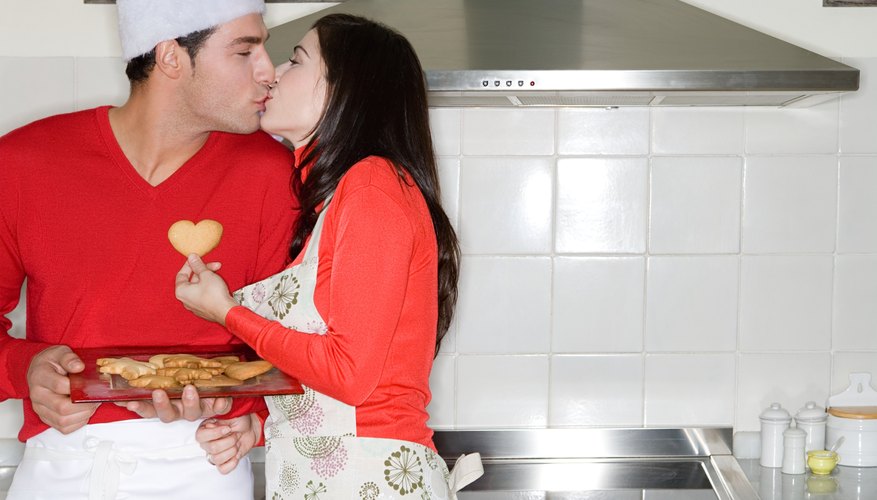 Give Gifts from the Heart
Sit by the fire and exchange meaningful presents on Christmas evening. Present your sweetie with a gift that will remind her of a shared memory and celebrate your commitment to each other, suggests psychologist Theresa DiDonato in the the Psychology Today article "Gift-Giving in Romantic Relationships." Give him a limited edition baseball card to remind him of the first ball game you attended together. Or give her a tin of gourmet brownies and reminisce about the dessert you shared on your first date. Attach a personalized card to explain the significance of the gifts.
Watch Holiday Love Stories
Get cozy indoors. Sip mugs of hot cocoa and cuddle up on the sofa together for a movie night. Being physically cold can provoke a preference for romance movies, reports psychologist Vinita Mehta in the Psychology Today article "Feeling Chilly? A Romance Movie Might Just Warm You Up." You and your sweetie can each select a romantic holiday-themed film for the evening and reflect on your own love. Watch classic films, such as "The Preacher's Wife" and "White Christmas," or something a little more modern, such as "The Holiday" and "Four Christmases."
Get Baking in the Kitchen
After enjoying Christmas dinner with your families, spend some alone time together whipping up dessert, especially if you have never baked together. Engaging in a new activity can make a couple feel like they are on a first date again, notes psychologist Terri Orbuch in her Psychology Today article, "3 Romantic Tips for the Holidays." Bake a batch of gingerbread people and have fun decorating the cookies to resemble yourselves. Or show each other how to make a family recipe, such as your grandma's famous peppermint cake. Then sip some eggnog and feed each other dessert.
Look at the Christmas Lights
Spend Christmas night seeing the lights around your neighborhood. An outing can be an exciting and enriching opportunity for you as a couple, says marriage and family therapist Emma K. Viglucci in her article "Top 10 Tips to Enhance Your Romance, Passion, and Fun!" If you are planning to walk to view the lights, bring insulated containers of hot cocoa to warm you up. Let the twinkle of the lights put you both in the holiday spirit as well as in a romantic mood. Share a few kisses along the way and point out displays that catch your eyes.
View Singles Near You