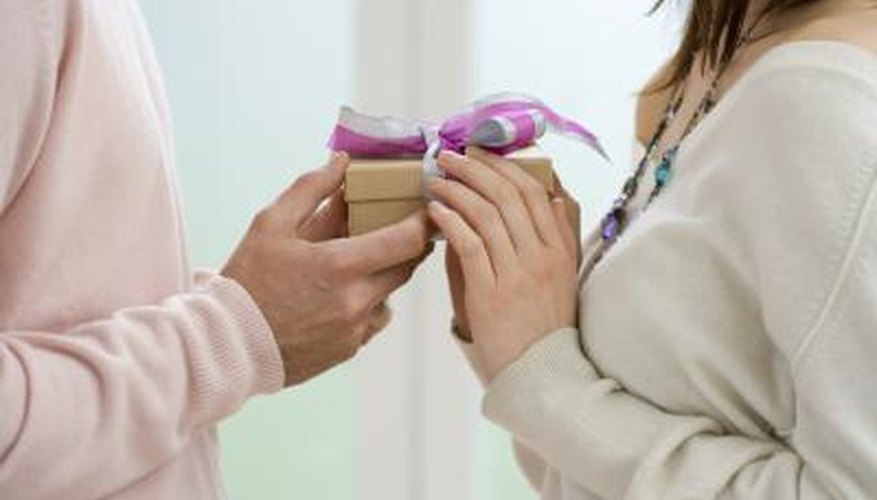 Couple's Massage
A couple's massage is a great way for both of you to enjoy a treat. They are relaxing and usually inexpensive, depending on the spa you choose. Contact some spas and salons in your area to get an idea of what they offer and the price range.
Boudoir Shots
Have a sexy photo taken of you in your favorite lingerie and then have it framed. Find a reputable photographer in your area who takes boudoir shots and set up an appointment to discuss the type of photo you want, prices, backgrounds and props.
Cologne
Pick out a new sexy scent for the man in your life that you can also enjoy every time he wears it. Make sure you take his tastes into consideration. For example, don't chose a musky scent if he dislikes the smell of musk.
Engraved Jewelry
A pair of engraved cuff links or an elegant engraved pocket watch can give your man a sexy touch of class, and he can think of you every time he gets dressed up.
Champagne
A toast with bubbly champagne is a great romantic gift, and you both can enjoy cocktails for two. Add a pair of crystal champagne glasses and some chocolate-covered strawberries to the mix, and you have the perfect romantic treat.
Chocolates
Chocolate has long been credited as an aphrodisiac because it is both sweet and sexy. Gourmet chocolates are a great romantic gift and can usually be found at most candy shops, bakeries or specialty gourmet stores.
Cashmere Sweater or Scarf
Cashmere material is both soft, silky and luxurious to wear. Buy your man a soft comfortable cashmere sweater or scarf and then apply just a tiny bit of your favorite perfume to the item so he can think of you every time he wears it.
Digital Photo Frame
Buy a digital photo frame and fill it with pictures of the two of you together. He can keep this in his office or next to his bed as a reminder of all the romantic times you have had together.
Dinner Feservations
Make a surprise dinner reservation at a romantic restaurant just for the two of you. Several restaurants even have their menus online so you can be sure to choose one that serves his favorite food. For an added romantic touch, you can order his favorite bottle of wine.
Romantic Trips
Planning a romantic trip just for the two of you is the ultimate romantic gift. This can range from a weekend getaway to an entire vacation. Several resorts offer adult-only packages and accommodations. Travel agents can also be helpful in planning extracurricular activities based on his likes and dislikes.
Resources
View Singles Near You