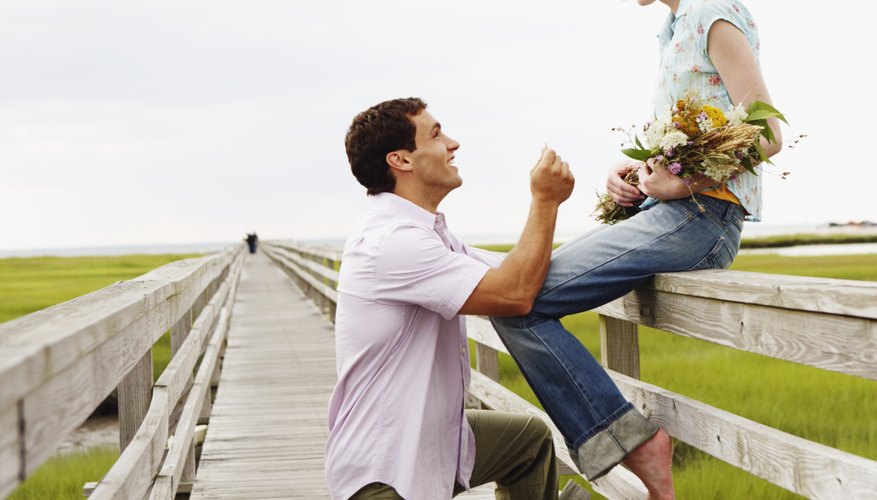 Look Attractive
An unclean, sweaty look and ill-fitting clothes are not going to fetch you any points. You want your girlfriend to dress well and look good; so it's only fair that she expects the same from you. Maintain a fit look with regular workouts or daily walks, be clean and wear clothes that you think show you in a good light.
Respect Her
Women want men who can respect their intelligence and feelings. Allow her to have her own views and opinions about things. Practice gestures such as inviting her to join you and your friends on an outing so that she knows you're proud to be with her. Respect also means avoiding intrusion into her personal space and trusting her enough to live her own life.
Listen to Her
A girlfriend is happy when her boyfriend takes the time to listen to what she has to say. She wants a patient ear to share her day at work, her interests, and her successes and disappointments. Listening to your girlfriend is an opportunity to get to know her better as a person.
Notice Her
Whether she has lost a few pounds or is wearing a new dress, a girl likes her boyfriend to notice the change and appreciate it. Say something like, "That's a new dress I'm seeing, right? The color complements your skin." The more specific you are, the more points you earn.
Show a Sense of Humor
Girls like guys who are able to laugh at themselves and at the world in general. Cheer her up with a humorous incident you've been involved in recently. Make light of your worries, see the positive side of things and smile often - and you're bound to impress your girl.
Be Forward-Thinking
It would add to your appeal if you are a goal-oriented person with specific plans for your future and willing to put in the hard work and courage to meet the goals. You may be an artist, teacher or a technical professional; whatever the field, keep your energy and ambition running to impress her.
Be Romantic
Profess your love for her through love notes and letters. Surprise her with a gift now and then. Arrange a candlelit dinner for two on her birthday or take her on a long quiet walk on a beautiful night and kiss her under starlit skies. Find ways to cherish her and make her feel special.
Be Sensitive
A guy who is sensitive to others' feelings and goes out of his way to help others is more likely to win his girl's heart. Participate in charity activities. Show some sensitivity toward your girl with gestures such as calling her parents and wishing them well on their anniversary or joining her girl's-outing when she invites you.
Stand By Her
Share responsibilities, be it household chores or other major things in life, and be there for her during moments of joy and sadness. Hold the promises you make to your girl, both big and small. All of these actions earn you your girlfriend's trust, which is the foundation of a happy relationship.
View Singles Near You