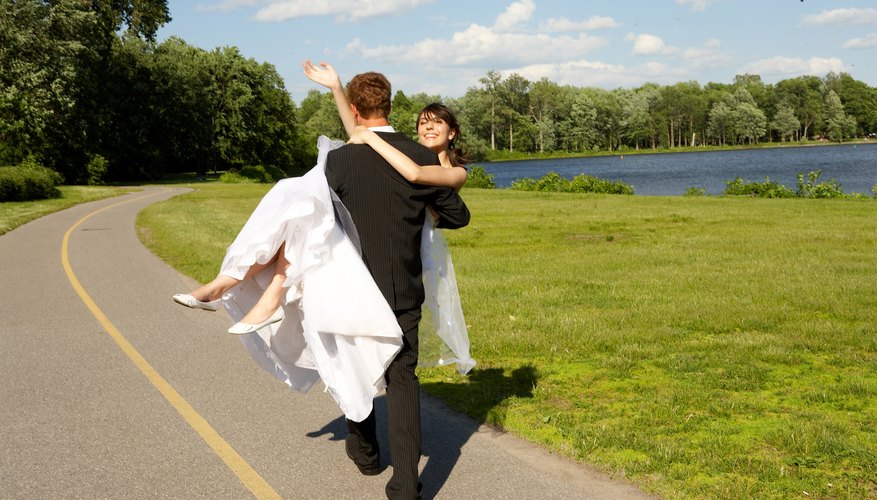 All-inclusive Resort
Budget is the main reason to choose an all-inclusive resort, and there are several in Cancun and the Mayan Riviera. You pay up front, so you worry about paying while you're there. All-inclusive resorts often offer a room and unlimited food and drinks as a package. Cozumel, Puerto Vallarta and Playa Del Carmen are three honeymoon destinations for newlyweds on a budget. The all-inclusive price at resorts, such as Sandals, Club Med, and Viva resorts will cover most of the trip cost. These resorts offer a range of accommodations. Depending on the package, some things may on may not be included. For example, a resort might offer you a package that does not include alcoholic beverages, while some many offer packages that do not include sports or recreational tours.
Bungalows
Rent a bungalow or private beach house. Several resorts also have bungalows or beach houses for rent that are separate from the all-inclusive resorts and hotels. Rivera Maya Hotels, Hotel Casa Iguana or Hotel Resort Xaloc offer this option. Private bungalows can be rented from international home rental agencies. Bungalows and beach houses usually come equipped with cooking facilities, amenities, private beaches and pools and are a good option if you prefer to venture out or cook your own food.
Cruises
Cruises are also a good option for couples on a budget Most cruises are all-inclusive with lavish meals and entertainment. They also offer packages for extra activities on land. Most cruise lines offer honeymoon suites and often during the trip, you will visit several locations within Mexico, such as Baja and the Mexican Rivera. Cruise lines such as Radisson Seven Sea Cruises, Holland America Line, Celebrity Cruises, Norwegian Cruise Line, Carnival Cruises host year-round trips. Honeymooners can usually get a special deal or are offered a suite with champagne or spa packages.
Adventure
Mexico also offers adventures.There are ancient Aztec and Mayan cities to explore, such as Chichen Itza, one of the largest Mayan cities, and Tenochtitlán and Tlatelolco, both Aztec cities. Scuba diving, snorkeling and surfing are available on almost every beach. Travelers come from around the world to swim on the country's many coral reefs, which are home to parrot fish, eels and sting rays. Those interested in exotic sealife can also swim with sea turtles and dolphins in underground rivers at Xel Ha. Besides the sealife, Mexico has lush jungles, reachable by boat and ATV rides, where you can see monkeys, leopards and other animals.
View Singles Near You