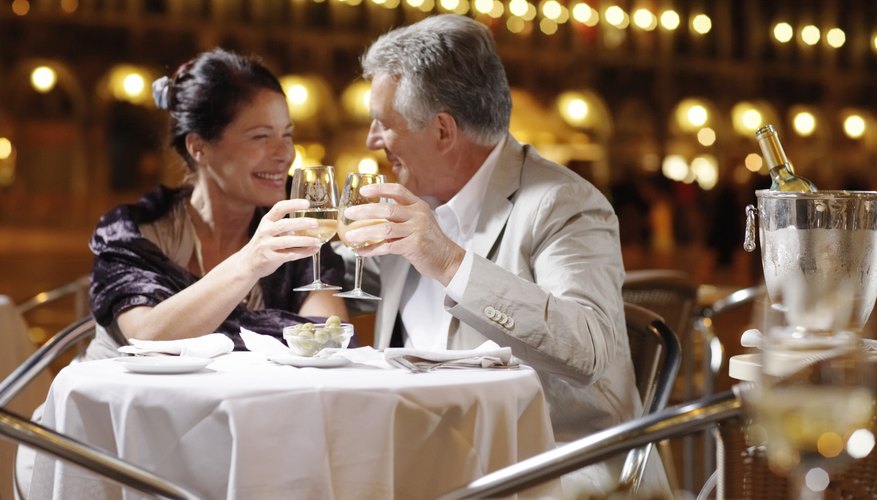 The French Laundry
The French Laundry is one of the most well-known restaurants in the United States. The restaurant, located in Napa Valley in Northern California, is owned by renowned chef Thomas Keller. The nine-course tasting menu changes daily and can include foie gras and fresh, seasonal salads, among other succulent dishes. The atmosphere is elegant fine dining with crisp white linens and impeccable service from the knowledgeable staff.
La Boheme
La Boheme French Restaurnt, located in Fair Oaks, California, just outside of Sacramento, provides an innovative, yet romantic, dining experience. La Boheme has been serving traditional French food, such as escargot, duck le orange and flambe desserts for more than 20 years. The wine list, atmosphere and attention to detail will not disappoint you if you are looking for an upscale fine-dining restaurant to have a romantic dinner.
Little Palm Island Resort
For a truly special dining experience, try Little Palm Island Resort's upscale restaurant. This beautiful, secluded resort offers delicious food at their prestigious restaurant in the Florida Keys. The eatery has an oceanfront dining room that you will never forget. The menu includes Cuban and French food, and the restaurant is open to off-island visitors as well as guests of the resort. Fine-dining attire is expected.
Portland City Grill
The view from the 30th-floor location of the Portland City Grill in downtown Portland, Oregon is enough to inspire romance in any couple. The twinkling city lights are a perfect backdrop for the delicious menu offered at this upscale restaurant. The menu varies from fresh sushi to corn-fed, aged Angus-beef steaks. You will feel pampered at one of Portland's most loved restaurants with its elegant atmosphere, top-quality food and excellent personal service.
Resources
View Singles Near You