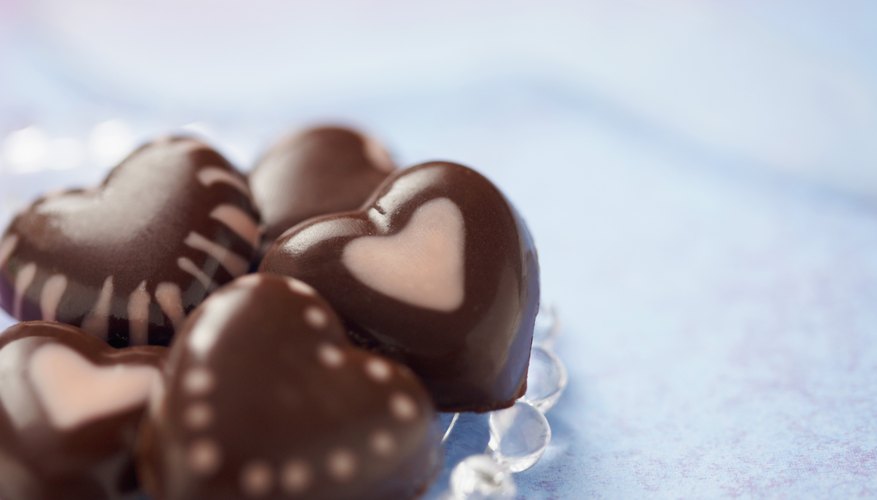 Clothing and Jewelry
Buy clothing or inexpensive jewelry for your new love. These gifts show that you care without being overly mushy or sentimental. Buy a T-shirt and personalize it with your new love's name. Alternatively, get something your sweetheart can use in the cold days of February, such as leather gloves, a hat, scarf or cashmere socks. You have options to choose from when buying jewelry also. Shop for inexpensive pieces, such as a silver, heart-shaped locket, a pair of earrings or a simple silver or gold bracelet.
Food and Drink
Tantalize your new love's taste buds. Most people enjoy a special treat, and a food item is a way to show your appreciation in a fun way, rather than an overly serious one. Give your new lover a box of chocolates or cookies. Alternately, show off your culinary skills by baking a cake. Alcoholic beverages are another option for your sweetheart. For instance, buy your boyfriend or girlfriend's favorite whiskey, beer or champagne; or sign your sweetheart up for a beer or wine club, that allows him or her to sample a new drink every month for a year. A gift such as this is personal enough to show that you know your sweetheart's tastes, while keeping it on a more fun and casual level.
Music and Movies
Give your lover the gift of music or movies. This gift is inexpensive and sends the message that you care without being too sentimental. Burn a CD of your sweetheart's favorite songs or make a playlist on his or her IPod. Alternatively, give your lover a CD of her favorite artist. Concert tickets are a good way to express appreciation while also scheduling a next date. If your sweetheart enjoys movies, a DVD of a favorite movie also makes a nice gift.
Fragrance and Pampering Gifts
Appeal to your lover's senses or need for pampering. This type of gift is appropriate for a relationship of five months because it shows that you care about your lover's well-being, though not in an overly sentimental way. Buy the signature perfume your lover wears or a fragrance he has mentioned. Alternatively, pamper your lover with a gift of a massage. Many spas offer massages for a half hour at reasonable prices, so call spas in your area and present your lover with a massage gift card. Not only will your sweetheart appreciate the gift, chances are that he or she will be in a very good mood the next time you get together.
View Singles Near You