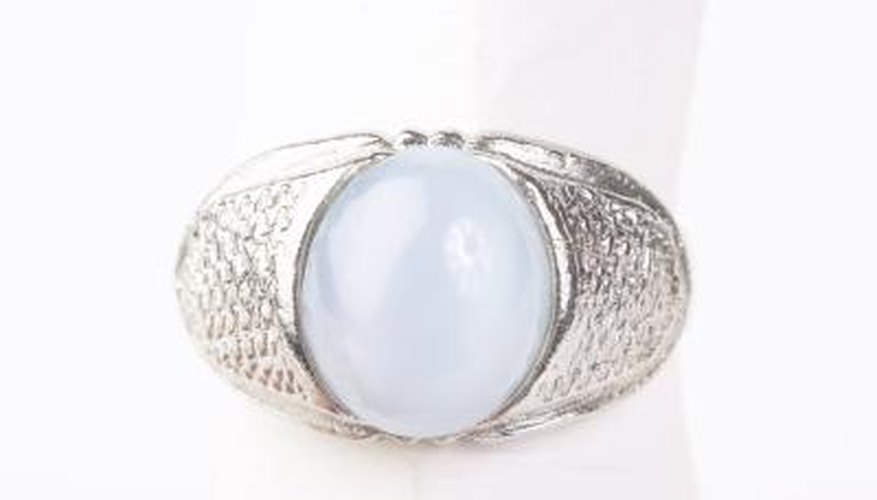 Step 1
Inspect your opal ring under good light, looking through a magnifying glass. What predominant color is the stone? What additional colors can you detect? How large is it? Does your stone have any cracks? Cracked opals are less valuable. Opals with red hues are rarer and more valuable then blue or green opals.
Step 2
Photograph your opal ring. You can submit the photograph to appraisers or, if you intend to sell the ring, you can use a good photograph to auction your ring online.
Step 3
Read "Opal Identification & Value" by Paul Downing. This book can help you understand and identify the range of hues within the opal gemstone, purchase opals and value opal rings and gems in your collection. Downing discusses how to tell if a gem is properly protected by its enclosure and how to identify different types of opals.
Step 4
Search for a jewelry appraisal at the American Society of Appraisers website. You can choose to have an in-person appraisal or obtain an appraisal via photograph. Call several jewelry appraisers near you and ask them for references.
Step 5
Check the references of the appraisers. Call one who has received positive feedback and schedule an appointment.
Step 6
Discuss why the appraiser estimated the value the way he did. He may point out flaws, muted color gradation or characteristics that are valued. Ask how you can expect that value to change over time. How should you care for your ring?
Resources
View Singles Near You