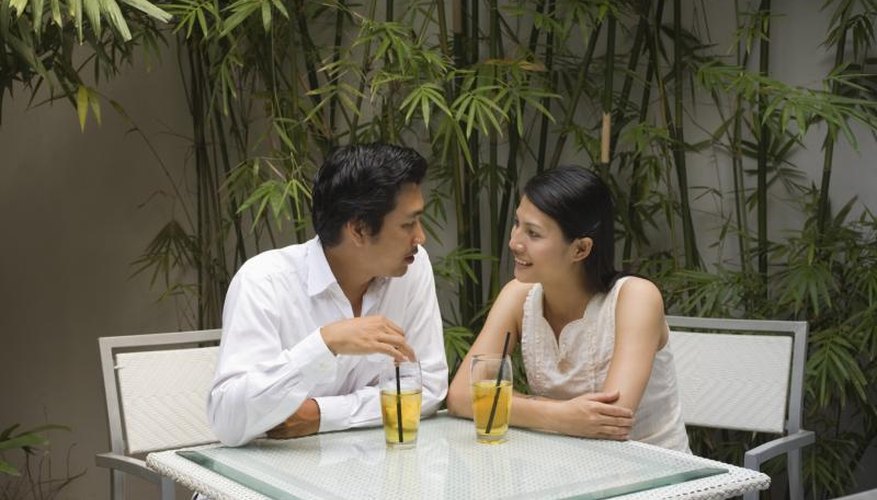 In Vietnam, dating can be complicated. It involves not only the difficult issues of romance, sex and gender, but also family, class and social status; in addition, the approval and support of others play a larger role than it typically does in America. Vietnamese culture has a well-developed system of morals and social rules dating back thousands of years. Tradition places men and women in highly compartmentalized roles and emphasizes the importance of preserving your own moral integrity and the integrity of the other person.
Initiating a Relationship
In Vietnamese culture, a woman is discouraged from initiating romantic relationships with men because it makes her appear "easy." Men typically initiate a relationship by repeatedly meeting with the woman and her family. If the family deems him acceptable, he then takes the step of requesting their permission to go out with her. Traditionally, few romances occurred between older couples because women were expected to marry before the age of 20, though men were allowed to be a few years older. But in recent years, many men and women are choosing to wait until their late 20s or mid-30s before getting married, if they marry at all.
Family Relationships
Vietnamese culture is family-oriented: Festivals, holidays and even dating are seen as events in which the entire family can and should participate. Romance is not just a private act between two people, but an event involving both friends and kin. If the woman's family consents to her dating a specific man, he visits at least once a week, usually on the weekends. Once both families have consented to the engagement, the couple visits each family, bringing gifts for the various members. Although this custom is less common than it used to be, especially in urban areas, traditionally, when the couple is ready for marriage, the groom's family sends a mediator to consult with the bride's family to seek consent. The groom's family then pays a certain amount of money to the village's community fund.
Going Out
If the parents consent to a relationship, the new couple goes on a low-key, public date like having coffee or driving around town, possibly accompanied by friends. Traditionally, both planning and paying for a date is viewed as the man's responsibility, and he expresses interest by not only paying for the meal but for any activities that follow. The woman expresses her affection by accepting this. He begins each date by offering a small gift, normally flowers. Going to see movies is socially unacceptable during the first few dates because sitting together in the darkness of a theater at the beginning of a relationship is considered inappropriate.
Displays of Affection
In traditional relationships, most forms of physical contact are forbidden between couples. Men and women may greet each other by bowing; hand-holding is not seen as an exclusively romantic gesture, and occurs as often in platonic relationships and friendships between people of the same sex as it does between couples. However, a "quiet sexual revolution" has been taking place, particularly in urban areas, since the turn of the century. Many Vietnamese youth are abandoning the traditional ways and holding hands, kissing in public and even sleeping together prior to marriage. Young couples have also adopted texting as one of their primary means of interacting, both because it's relatively inexpensive compared to phone calls, and because many young people, daunted by the social rules governing personal contact, find writing an easier form of communication.
View Singles Near You
Cite this Article
Choose Citation Style
Herrington, Boze. "Vietnamese Dating Etiquette." Dating Tips - Match.com, https://datingtips.match.com/vietnamese-dating-etiquette-5506213.html. Accessed 02 June 2020.
Herrington, Boze. (n.d.). Vietnamese Dating Etiquette. Dating Tips - Match.com. Retrieved from https://datingtips.match.com/vietnamese-dating-etiquette-5506213.html
Herrington, Boze. "Vietnamese Dating Etiquette" accessed June 02, 2020. https://datingtips.match.com/vietnamese-dating-etiquette-5506213.html
Note: Depending on which text editor you're pasting into, you might have to add the italics to the site name.