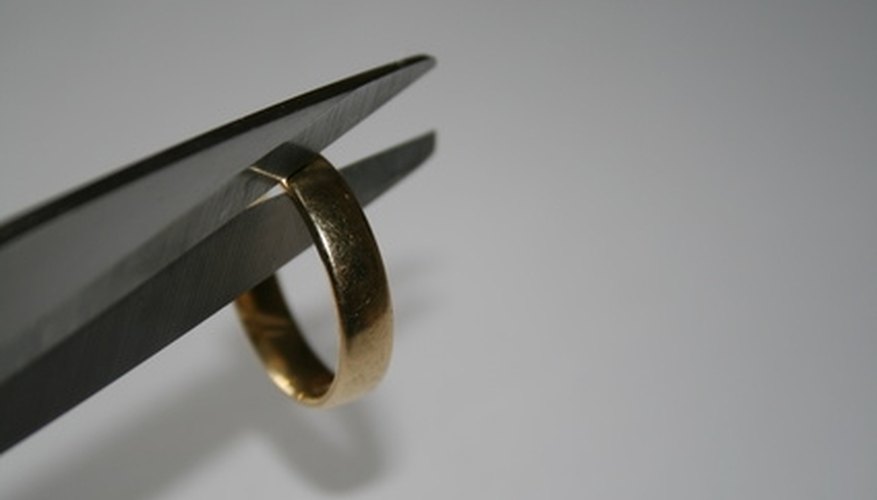 Regardless of the state or circumstance, the process of ending a marriage is often complicated, confusing and stressful. Bringing the dynamics of a new romantic relationship into the picture can exacerbate an already difficult situation and cause feelings of hostility. A limited divorce in Virginia allows couples to live apart but remain legally married; for this reason, the laws regarding dating prior to a divorce settlement can be particularly confusing. In any case, individuals in the midst of a divorce should give significant consideration to the legal, personal and financial ramifications of dating before they are legally divorced.
Limited Divorce Definition
"A mensa et thoro" is Latin for "from table to bed." In family law, an "a mensa et thoro divorce" is synonymous with limited divorce. In the state of Virginia, a limited divorce is one where a couple remains married but legally lives apart. Under a limited divorce arrangement, the legitimacy of any children born during the marriage remains intact and neither partner may re-marry.
Requirements for Limited Divorce
A limited divorce in the Commonwealth of Virginia is similar to legal separation arrangements. It is often the first step in initiating a couple's separation under court supervision and requires no prior period of separation. The grounds required for a limited divorce differ from the grounds required for an absolute or final divorce and include desertion, malice, abandonment, vicious conduct and cruelty. In order to obtain a limited divorce, couples must satisfy state residency and grounds requirements. Limited divorces can involve property settlements, alimony, and child support and custody, and sometimes the court requires couples to participate in reconciliation efforts.
Dating Under a Limited Divorce Agreement
Under limited divorce agreements, Virgina courts consider couples to be legally married at the same time that they are legally separated, and marriage laws still apply. Dating prior to an absolute divorce constitutes infidelity and can cause your spouse hurt and embarrassment. Many divorce lawyers strongly recommend that individuals not date until they are legally divorced. Dating may delay or extend court proceedings and cause problems respective to alimony and, if there are children, visitation, custody and child support.
Potential Legal Ramifications of Dating
Individuals are often asked under oath at a deposition or during court proceedings about dating or romantic relationships. If you do date prior to when your divorce is final and answer these questions falsely, it constitutes perjury. Dating after limited divorce and before absolute divorce can also have a serious negative impact on settlement negotiations. These romantic entanglements tend to provoke feelings of ill-will, anger and revenge within estranged individuals, which may greatly complicate settlement negotiations with your spouse.
Legal Advice
The DivorceNet website, a collection of federal and state divorce guidelines and regulations, does not recommend limited divorce. Many couples who pursue this option end up getting an absolute divorce or legally dissolving the marriage. Couples who go through both limited divorce and absolute divorce proceedings pay for two lawsuits. Additionally, while all divorces are generally uncomfortable and stressful, two proceedings will likely result in more lawyer fees and extended time in family court.
View Singles Near You
Cite this Article
Choose Citation Style
Guzman, Alyssa. "Virginia Laws About Limited Divorce & Dating." Dating Tips - Match.com, https://datingtips.match.com/virginia-laws-limited-divorce-dating-6784120.html. 29 July 2016.
Guzman, Alyssa. (2016, July 29). Virginia Laws About Limited Divorce & Dating. Dating Tips - Match.com. Retrieved from https://datingtips.match.com/virginia-laws-limited-divorce-dating-6784120.html
Guzman, Alyssa. "Virginia Laws About Limited Divorce & Dating" last modified July 29, 2016. https://datingtips.match.com/virginia-laws-limited-divorce-dating-6784120.html
Note: Depending on which text editor you're pasting into, you might have to add the italics to the site name.