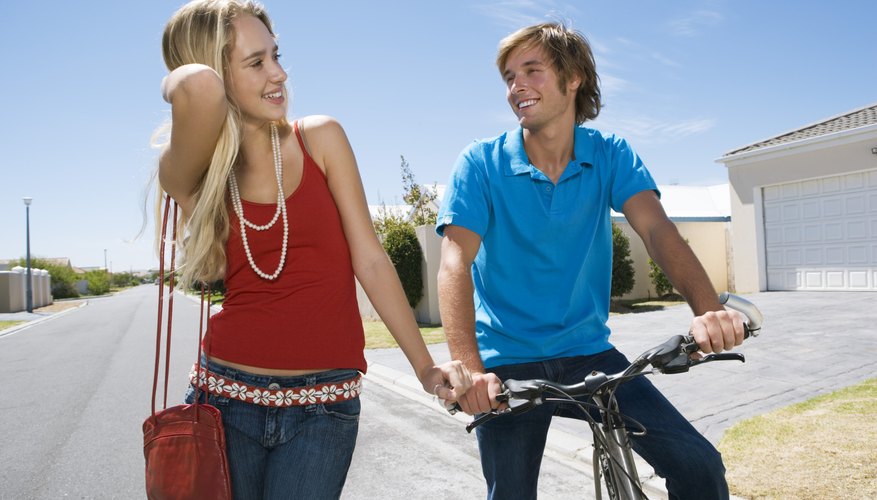 Dress to Impress
A good way to get your crush to notice you is to dress up your appearance. Instead of dressing casually, wear a nice shirt with a pair of dress slacks. Put on a little perfume or cologne. Also watch your posture, which can affect your overall appearance, no matter what you're wearing. If you take the time to work on your appearance, you may also feel more confident around your crush.
Share His Interests
Find out what your crush's interests are from one of his friends. If he is artistic, sign up for the art class he attends every Saturday morning. If he is into sports, attend one of his basketball games and cheer him on. Sharing an appreciation for his interests will make him notice that you truly enjoy being around him. If you don't have much in common, you might want to reconsider your compatibility in the long run.
Talk to Your Crush
While it may be nerve-wracking to start a conversation with someone you like, it will get him to notice you. Brainstorm several simple topics you can engage your crush with, as prep work is the first key to making good conversation, suggests networking coach Don Gabor in the article, "Mastering the Art of Small Talk," published by Oklahoma University. For example, if you are in the same class, plan to talk about the upcoming test. Try to keep the conversation light and avoid negativity.
Do Something Nice
A kind act will go a long way in getting your crush to notice you. By doing something nice, you show your crush that you are a caring person. Let her see your notes if she missed a day of class, or hold an umbrella for her as she walks to her car on a rainy day. Be considerate, but don't allow yourself to become a doormat that tries too hard to tend to her every whim.
Use Humor
Many people like being around those who have a good sense of humor. If you make your crush laugh by telling him a funny joke or just acting silly, you will get his attention. However, try to avoid telling crude jokes that may offend him. During your conversations, try to get a feel for his style of humor. Does he enjoy witty sarcasm or silly stories and observations?
View Singles Near You