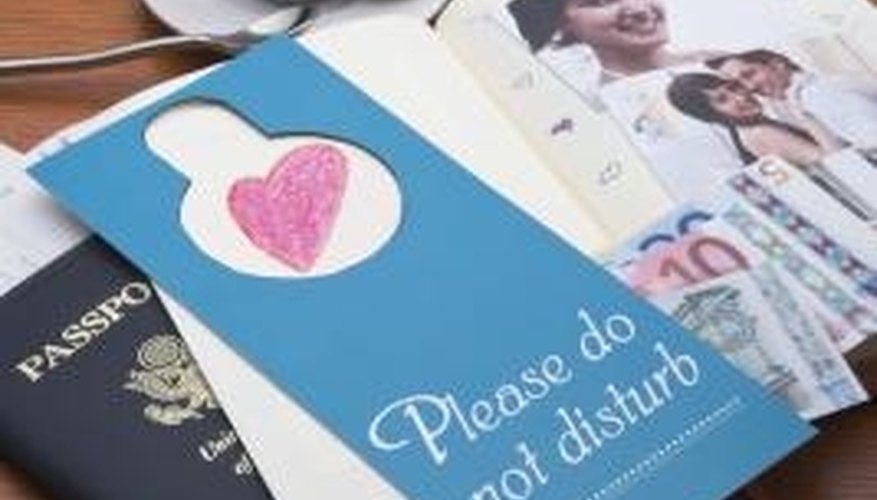 Collection
Showcase your smaller romantic items as a collection. Group the set of china the two of you bought while on vacation in a glass-front cabinet, or mat and frame the vintage postcards he sent you while away on a business trip and hang them on a wall. Arrange the small inexpensive souvenirs you buy on your various getaways in a curio cabinet or on a small wooden shelf.
Repurpose
Reuse something that has romantic meaning in another way. Turn a door from your first home together into a headboard for your bed. Or attach several doors together, and create a folding screen for your room. Add some shelves to the screen to hold photographs of your first kiss, wedding day or favorite anniversary, or paint a scene on the screen that reminds you of the place you honeymooned.
Artwork
Turn Valentine's Day cards, other romantic cards and birthday cards into artwork. Design one large collage for the wall, or arrange them to spell out the letters L-O-V-E, and frame them. Frame love letters, and hang them on the wall. Arrange three-dimensional romantic items, such as heart candles given to you on Valentine's Day or the seashells found while you walked hand-in-hand on the shore on a tiered cake plate. Put it on a table in your entryway.
Fabrics
Reproduce your most romantic photos on fabric, and create throw pillows for your bed or living-room sofa. Use the fabric from your wedding dress or the photo fabric to make a quilt for your bed. Put some lace from your wedding dress and small dried flowers from your wedding bouquet in a shadow box, and place it where you can see it every morning when the two of you wake up.
View Singles Near You