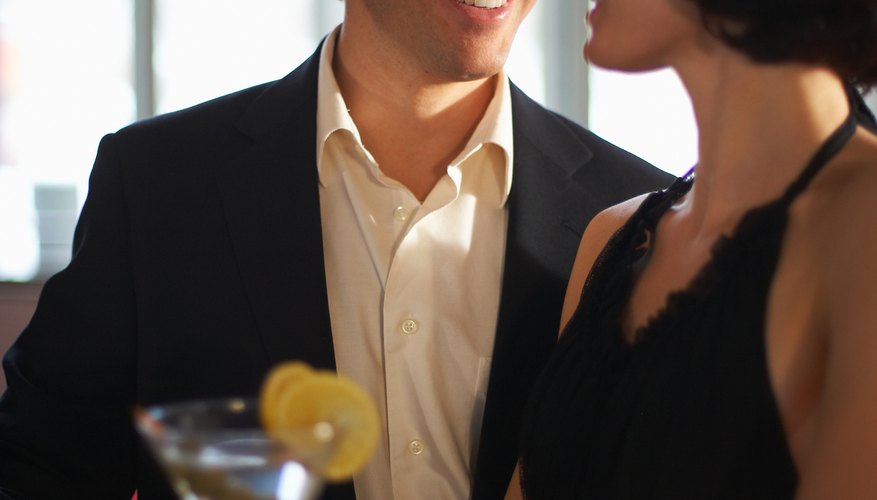 Hold Her Hand
Holding a girl's hand on a date is a means of making physical contact without becoming too intimate, too early. Other brief moments of contact might also stick out in her mind, such as your arm brushing against hers as you help her remove her coat or your hand at the small of her back as you show her the way to your theater seats.
Listen to What She Says
Listen to what she has to say and remember it. Make eye contact throughout your date to ensure she knows she has your attention. If she mentions her favorite song, movie or actor, remember it; it may be beneficial later when you can incorporate it back into the conversation to demonstrate your attentiveness. For example, if you hear her favorite song playing, point it out, or suggest you rent a copy of her favorite film for a movie night in on your next date.
Surprise Her
A surprise does not have to be anything enormous or expensive; it is the small sentiments that your date will likely remember most vividly. Show up at her house just to say hello or send her flowers just because. Once you're better acquainted, drop by her house with a pizza for dinner even though you can't stay for the meal or offer to help her muck out her basement on a Saturday afternoon.
Chivalry
Be a charming and chivalrous date, unlocking her car door first or holding a door for her on your way into a restaurant or store. This will more than likely bring a smile to her face -- and her family and friends are likely to be very thrilled when she mentions this to them. Offer to pay for dinner when you're out on a date, but don't refuse her if she would prefer to split the bill or offers to cover the bill next time -- that means she's expecting there to be a second date.
Take Pictures
Find a photo booth at a mall, movie theater or amusement park. Take some pictures acting silly and making goofy faces. Tell her to pick two pictures and you take the other two home with you. This will give her something physical to remember you by, and the goofy faces in the pictures will remind her that the two of you had fun together.
View Singles Near You