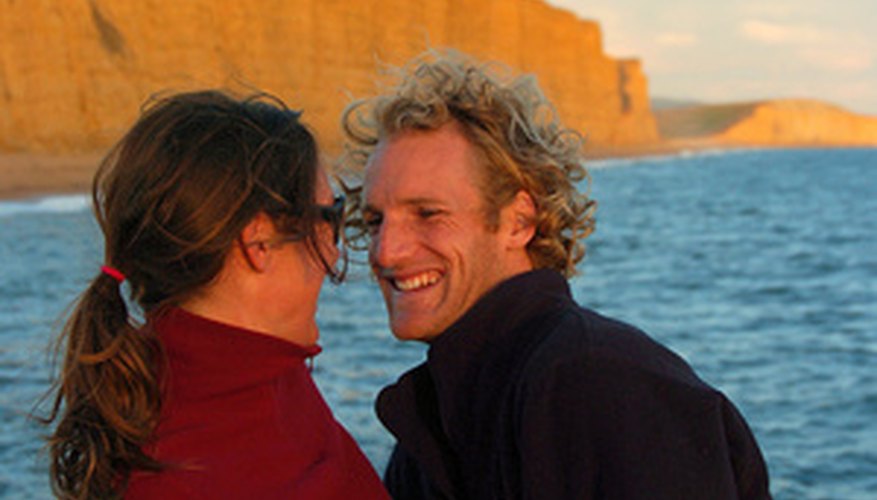 Overview
Many couples today have difficulty finding things to do together on the weekend. Either they're too busy or they don't know what to do. It's important to spend time together and find new activities to keep your relationship fresh and exciting. Researchers from the State University of New York, Stony Brook found that couples who participate in interesting activities together have more satisfying relationships. There are always a variety of places to explore and things to do if you know where to look.
Outdoor Exploration
If you and your partner enjoy being outdoors, spend some time together soaking up the sunshine. Enjoy the day exercising and picnicking at a nearby park. If you prefer to be more adventurous, go mountain biking, rock climbing, kayaking or even camping. The couple that enjoys playing sports together may love a day on the golf green or tennis courts. If there's a pool or beach nearby, spend the day swimming together. A water park is another way to cool off in the summer. If it's snowing, go skiing, snow tubing or snowboarding. You may also enjoy a day of sledding and building snowmen.
Romantic Dates
Weekends are the perfect time to connect with your significant other and enjoy a romantic date. Relax together with a couple's massage. Go out to a favorite restaurant or the place where you first met. If you prefer to stay in, cook a nice dinner and set the mood with flowers, candles and music. If it's dreary outside, spend the day cuddled under blankets watching movies, reading books or doing crossword puzzles.
Sightseeing
Many couples enjoy visiting new places together. There are probably places in your hometown you have wanted to visit but haven't found the time. If your town is small, you may need to venture to a nearby city. Consider visiting a museum, art gallery, zoo or historic attraction. Check out any companies that offer tours. If there are factories nearby, they might have guided tours showing how they make their goods. If you're into the paranormal, some businesses have ghost tours.
Local Events
Check your newspaper for local events you and your partner may be interested in. Your favorite band may be playing next weekend, or a big sporting event may be scheduled. There may be a drama company performing a play. Perhaps an author is having a book signing. If you and your significant other enjoy learning new things, you may want to take a class together to improve your cooking or gardening skills. Also consider going to a festival or fair. The active couple may enjoy a day at a local amusement park riding roller coasters. If you both enjoy playing games, spend some time at a bowling alley or laser tag arena.
Volunteering
If you and your partner are passionate about something, show your support by donating your time to the cause. A local animal shelter or soup kitchen is always in need of assistance. A cancer research center may need help raising money or awareness. An environmental group will appreciate help cleaning up the area. You and your partner can have a good time together while helping your community.
View Singles Near You