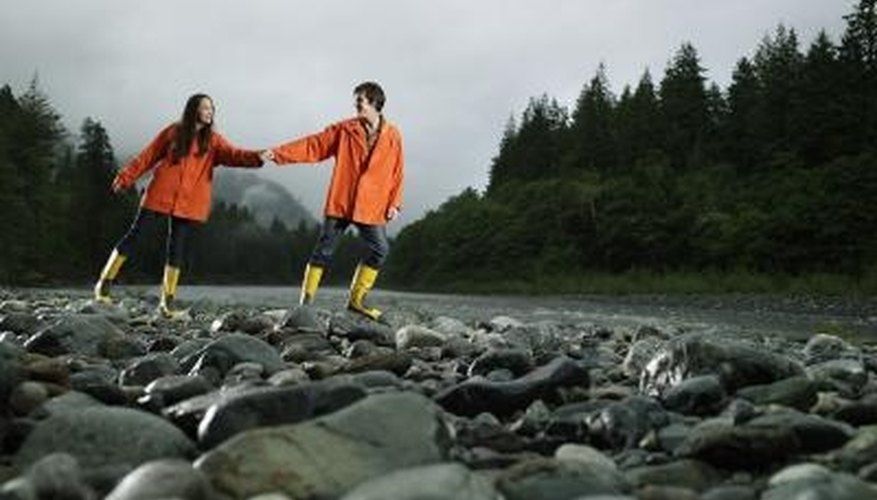 Destinations
The destination of your romantic weekend trip can be just about anywhere. If you cannot afford to fly somewhere, find a nearby location that is within driving distance. For instance, if you live close to a beach or winery area that interests you or your spouse, rent a hotel room or a campsite if you would rather. Choosing a closer destination can also help you maximize the time you have. However, if flying is an option, choose a romantic destination that you and your spouse have been considering for years, keeping in mind you only have a weekend to spend there.
Time of Year
The time of year in which you plan your weekend trip can have an influence on where you go. During the fall months, a trip to a forested area in a cooler climate offers views of the changing colors in the trees. If you live near the mountains, especially in the winter months, a weekend trip to the ski lodge can be very romantic. Whether you decide to hit the slopes or cuddle up by the fireplace or in your room, you and your spouse can enjoy your weekend away. Some areas also offer beautiful floral blooms in the spring and perfect beach weather in the summer months.
Couples' Resorts
Some accommodations are designed specifically with couples in mind. These resorts offer romantic dining options, cozy rooms for two and other activities specially designed for couples. In some places, you may not even have to leave the resort the entire weekend because everything you need is right on site. These resorts typically offer quiet locations because no children are allowed. In addition to being child-free, couples' resorts are filled with other couples who want to be alone, just like you, reducing interference from other guests.
Food
During your romantic weekend trip, you need to eat. When planning for your trip, consider special foods that you and your spouse enjoy that you don't get to have very often. Find a location that offers a restaurant with these types of food to make your weekend even more special. Some of these restaurants may offer candle lighting, as well as piano or violin music to add to the romantic atmosphere. If a romantic-style restaurant is not available, choose one that means something to you and your spouse.
Cost
Take into consideration the cost of your romantic weekend trip. When choosing your destination, have your total budget in mind to help guide your plans. Some areas, such as Las Vegas and Atlantic City, may be further away from home than others but cheaper. If you and your spouse enjoy the outdoors, a campsite is cheaper than a hotel room. The point of a romantic weekend trip is to enjoy each other. Therefore, it is important to choose a place you can easily afford but where you both can enjoy yourselves.
View Singles Near You