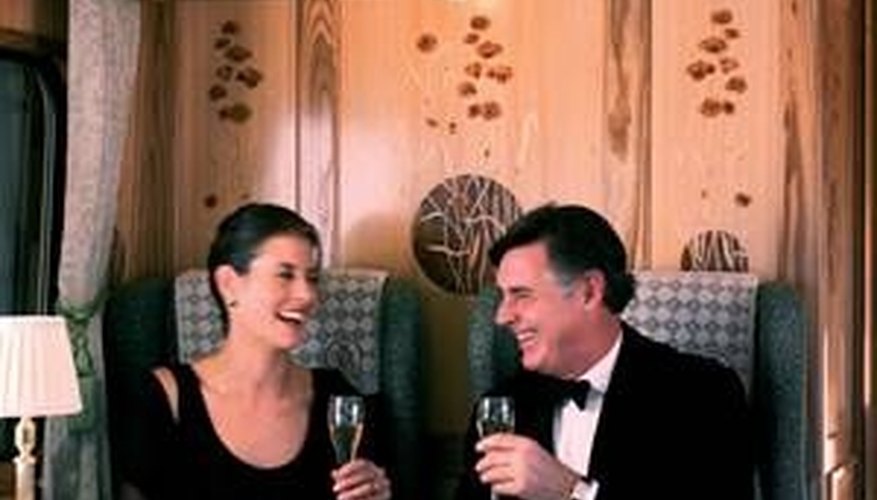 Start with a Cheese and Cracker Plate
Arrange various cheeses, such as Brie or Gouda, and an assortment of crackers on a plate with dried fruits and olives.
Appetizer
Prepare a light appetizer, such as a baby quiche or a bruschetta. Oysters, long thought to be an aphrodisiac, are another option.
Have a Bottle of Wine
Share a bottle of red wine. This provides heart-healthy antioxidants and will go well with your hearty dinner.
Start with a First Course
A light salad with pears, goat cheese and pine nuts, served with some a light balsamic vinaigrette, is sure to please. You can also opt to prepare a soup. A light butternut squash soup is a favorite during any time of the year.
Enjoy the Main Course
A hearty dinner of rack of lamb or a filet mignon with caramelized shallots in a wine sauce are great dishes for a romantic dinner. You and your partner can leisurely enjoy the meal and each other's company. Include a vegetable with the dish such as grilled artichokes or asparagus in herbed butter sauce. Those who prefer lighter fare can opt for fish, such as a grilled salmon or a tilapia. Vegetarians can prepare a penne with vodka cream sauce and crusted garlic bread.
Dessert for Two
Chocolate contains the properties phenylethylamine and serotonin, known to be an aphrodisiac and to produce mood-lifting feelings in the brain. End the romantic date by preparing a delicious chocolate fondue. You can add anything to dip such as apple slices, strawberries, bananas and dried figs.
View Singles Near You