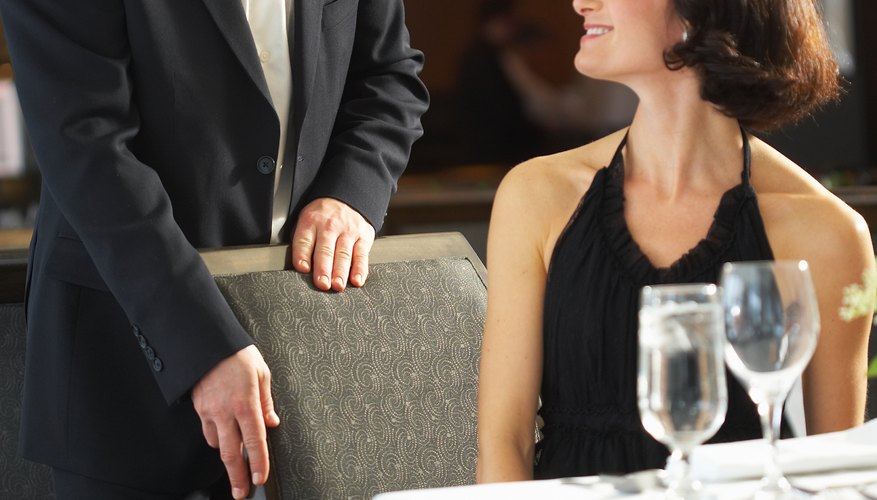 Pay Attention
Men must maintain an attentive demeanor when taking a woman out on a first date. The first date is an opportunity for two people to get to know one another in a private and intimate way, absent from family, co-workers or friends. Giving a woman your attention and listening to her is a rich and important means of unspoken communication. It is appreciated on any occasion. Attentiveness -- real attentiveness -- generates provoking conversation, provides men the opportunity to understand and empathize with his date and shows a woman you are willing to make her cares a priority.
Make Conversation
Keep conversation fun, easy and meaningful. Having nothing to say ruins any romantic atmosphere that has been set. Ask questions that make a woman feel comfortable and unobtrusive. Find out new and interesting facts about the woman by asking her off-the-cuff questions. Talking about work and family are fine, but ask a woman what sport she can play best or what superhero she would become to keep conversation creative. If a woman opens up a sensitive subject matter, feel free to pursue it with her. Do not force difficult conversation. Remember, this is a first date -- the start of something new.
Take It Slow
Show respect and care for the woman by not forcing physical contact. A man who gropes at a woman or overwhelms her with mentions of her physical assets can come off as too assertive. Date the woman's imagination, mind, spirit and emotions before making a move for her body. Taking it slow demonstrates maturity, self-control and admiration for the woman. A tender, closed-mouthed good night kiss can cap off a wonderful and lovely evening with charm and appropriate affection on a first date.
Flexibility and Creativity
Have an alternative date plan in your mind if your initial plans do not pan out. If the restaurant you choose is suddenly closed or the movie you planned to see is no longer playing, having a backup plan keeps you flexible and relaxed. Additionally, using your creativity to craft a date can add to the charm. If you know the woman is a sucker for reading classic literature, for example, take a stroll through a bookstore or attend a lecture or cultural arts presentation before dinner. Planning ahead and appealing to a woman's interests is a sure sign of a gentleman.
View Singles Near You