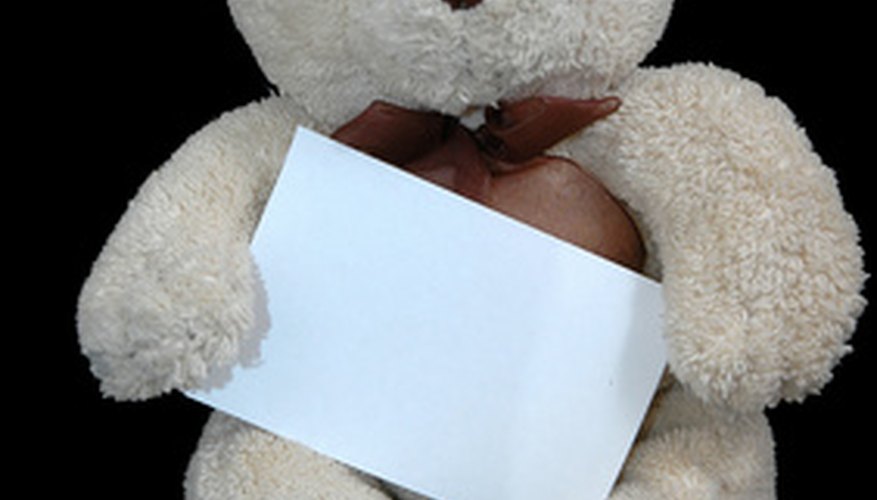 Step 1
Write a rough draft of your message before you put pen to paper in the actual card so you have the chance to think through what you want to say. Preparation avoids errors and cross outs in the final product.
Step 2
Utilize a heavy card stock and fold the paper in half for your card. Glue a picture of your boyfriend to the front of the card and attach peel and stick letters across the top reading, "It's your special day" or "Look who's turning..." with his age listed there. Add sticker hearts or other reminders of your love.
Step 3
Add the date to the top of the card so your boyfriend can look back at the card in the future and remember the exact birthday when you gave him the note. This will be advantageous to your boyfriend as he chronicles and looks back on your time together.
Step 4
Address your boyfriend in the letter with a pet name or nickname if he has one. Use a term of endearment to help make your significant other feel extra special or choose a designation that will make him laugh, such as "King of My Heart," "Number One Hot Guy" or "My Favorite Handy Man."
Step 5
Choose a theme or a direction to help guide your note, especially if you are having trouble coming up with the right words. These could include a message that is funny, sentimental, romantic or even religious. Choose something that fits your boyfriend and the relationship you share.
Step 6
Use language that conveys your sincere emotions and calls to mind the happiness that you share with your boyfriend. If you have not been with your boyfriend for a long period of time, you can take a lighter approach to the sentiment and keep the message fun.
Step 7
Include a meaningful story, memory or inside joke that only the two of you share. You can also write a quote that is meaningful to him or to you as a couple. Showing that you pay attention to small details like this will help him to see how much you care about your relationship.
Things You Will Need

Birthday card
Scratch paper
Pen
Heavy card stock
Photo
Peel and stick letters
Stickers
View Singles Near You