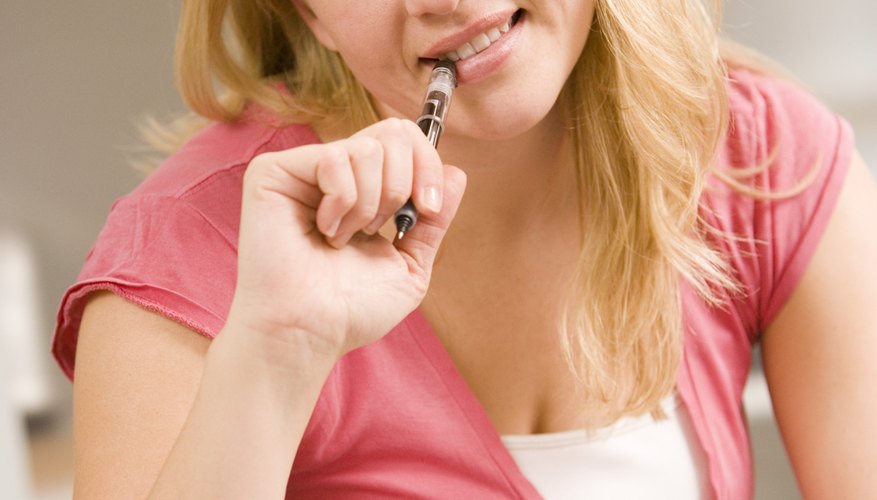 Plan Your Poem
Step 1
Think about what you want to say in your poem. "I love you", "you're handsome" and "together forever" are all great sentiments, but use specific references to your relationship. Make a list of experiences you have shared, quirky things you love about him and inside jokes you can draw on.
Step 2
Read other love poems to get your brain moving. Reading the language of love poems can help you write your own later. Check out the love poetry of Shakespeare, e. e. cummings, Pablo Neruda, Rumi and Emily Dickinson for inspiration.
Step 3
Choose a form. Sonnets are a classic form for love poems, consisting of 14 lines in iambic pentameter. Rhyme schemes vary, though most often Shakespeare used the abab cdcd efef gg rhyme scheme where each letter in a rhyme scheme stands for one ending sound. For example, the abab scheme in Shakespeare's Sonnet 2 is:
When forty winters shall beseige thy brow, And dig deep trenches in thy beauty's field, Thy youth's proud livery, so gazed on now, Will be a tatter'd weed, of small worth held
"a" is the -ow sound in brow and now; "b" is the -eld sound in field and held. The rest of the poem follows with the cdcd efef gg pattern,
Ballads typically tell a story about your love, using quatrains in iambic heptameter with the second and fourth lines rhyming.
Step 4
Write a poem in free form or a simple rhyming poem if you do not want to use a typical form.
Writing Your Poem
Step 1
Consult the list of events, memories, details and jokes you previously wrote. Circle the things you want to use in your poem.
Step 2
Begin writing, allowing yourself to edit the poem as you go. It may help to use a rhyming dictionary if you want your poem to rhyme. Complete the first draft and then let it sit for a day or so.
Step 3
Ask a good friend or colleague to read your poem and critique it. Revise your poem by cutting out cliches and changing overly sentimental lines. If a word or line is troubling you, try deleting it and see if your poem sounds better.
Step 4
Write the final draft of your poem on a card and put it in a special place to surprise him.
Tip
Reading the poem out loud to yourself can help you maintain the rhyme and meter.
Resources
View Singles Near You