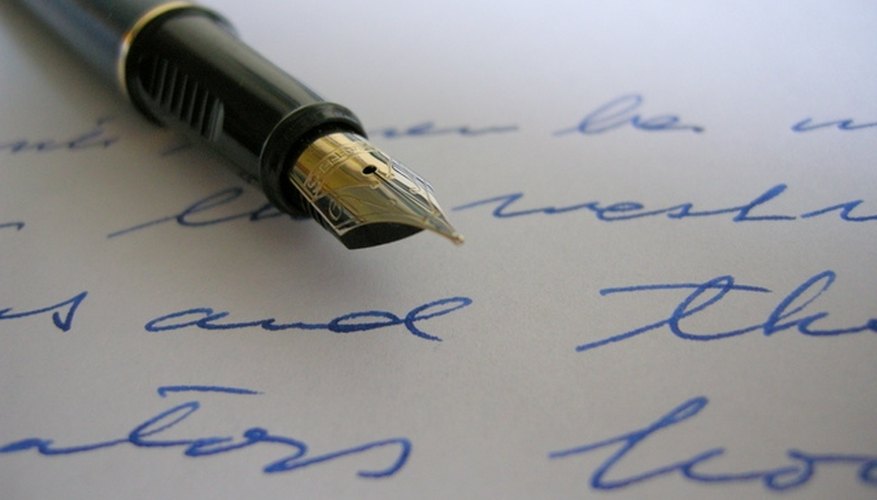 Preparing to Write
Find a quiet spot to think and write. It could be a desk, the kitchen table or a lounge chair on the back patio. Anywhere is fine, as long as you are comfortable. It's also important that it's somewhere you won't be disturbed so that you can think of what you want to say in your letter.
Gather your pen or pencil and paper. Make sure that you have plenty of ink in your pen, or that all your pencils are sharpened. Have a good supply of blank paper on hand. Have the dictionary and thesaurus ready for use.
Sit back and start thinking romantic thoughts.
Putting Your Thoughts on Paper
Ask yourself questions about your significant other. Why did you fall in love with him? What qualities attracted you to her? How has this person changed your life?
Make a list of every feeling and emotion your significant other evokes in you. Does she make you happy? Is he all you think about? Do you have trouble sleeping or eating? Write down anything you can think of.
Once you have your thoughts gathered and lists written, begin your letter.
Write from the heart. The letter should be your genuine feelings for your significant other. You don't need to use big, fancy words to express yourself. Keep it simple. Use the dictionary or thesaurus if you need to.
Read over what you've written. Correct any mispellings and change any words you are not comfortable with. If necessary, rewrite the letter so that you have a clean copy.
Make sure you end the letter with the words "I love you." After all, the letter is an expression of your love for the other person.
Give the letter to your significant other and get ready to reap the benefits.
Things You Will Need

Writing utensil
Blank writing paper
Dictionary
Thesaurus
Tips
Handwriting a romantic letter is much better than using a computer. It makes your letter much more personal.

You can also include a romantic poem or quote in your letter if desired.
View Singles Near You